Overview
HPCL LNG Limited (HPLNG) is developing a Greenfield LNG Storage & Regasification Terminal at Chhara, District Gir-Somnath, Gujarat. The Project site lies on the south coast of Gujarat State and the nearest airport is Diu Airport. The Terminal is spread over ~138 Acres and is within the boundary of an all-weather multi-purpose Greenfield Chhara Port, being developed by Simar Port Private Limited (SPPL). SPPL will be providing all necessary services associated with the safe transit and mooring of the LNG carriers at the port
The terminal is designed for regasification capacity of 5 MMTPA with provision to expand to 10 MMTPA capacity.
This project has been conceived and being executed with an objective of providing environment friendly fuel which is used in cooking, industrial and automotive purposes. This project once completed achieves the objectives of providing clean fuel to the nation and contribute in achieving Government of India's vision of increasing share of Natural Gas in India's energy mix from 6% to 15% by 2030.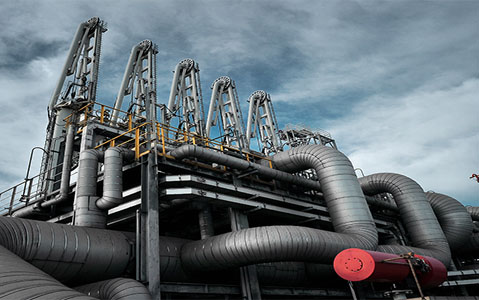 ---
The Project involves development of LNG Terminal with all associated facilities for receipt, unloading, storage and regasification of LNG and supply of regasified LNG to the gas grid. The terminal can be majorly divided into three parts.
Marine Facilities for Ship Unloading: For unloading LNG Carrier ships, a 1.2 Km long jetty with unloading arms and pipeline for transporting LNG to storage tanks is being constructed. The unloading facility will be able to cater to LNG carriers of 80,000 to 266,000 cubic meter capacity for unloading LNG. Provision of additional jetty for future is also available for Phase 2.
LNG Storage Facilities: LNG will be stored in two numbers full containment LNG storage tanks. The tanks at the terminal are the largest LNG storage tanks in India, having capacity of 200,000 cubic meter each. These tanks are designed to store LNG at very low temperatures of -162° C. The LNG tanks are above ground, double walled full containment tanks with steel inner tank and outer concrete tank.
Regasification Facilities: The LNG stored in LNG tanks are converted back to natural gas at ambient temperature and transported to gas grid at high pressure. For regasification of LNG, facilities like LNG Vaporizers, Air Heaters, BOG Compressor and HP Pumps are used at the Terminal. Facility for loading of LNG into tank trucks for transporting LNG to small LNG stations is also being constructed at the terminal.
For send-out of Regasified LNG, a tie-in connectivity pipeline from Chhara Terminal to Londhpur Terminal is being laid and Gujarat State Petronet Limited (GSPL) has been authorized by PNGRB for constructing this pipeline.